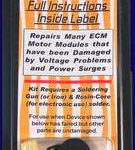 Don't toss ECM Motors! You can repair many GE (Regal-Beloit) ECM motor modules that have been damaged by voltage problems and power surges.
The repair Kit requires the use of a soldering gun (or iron) and rosin-core (for electronic use) solder. Johnstone number S59-422 is just $19.99ea!
Watch informative Video Here!