Register for Fall Fest and Get Ready!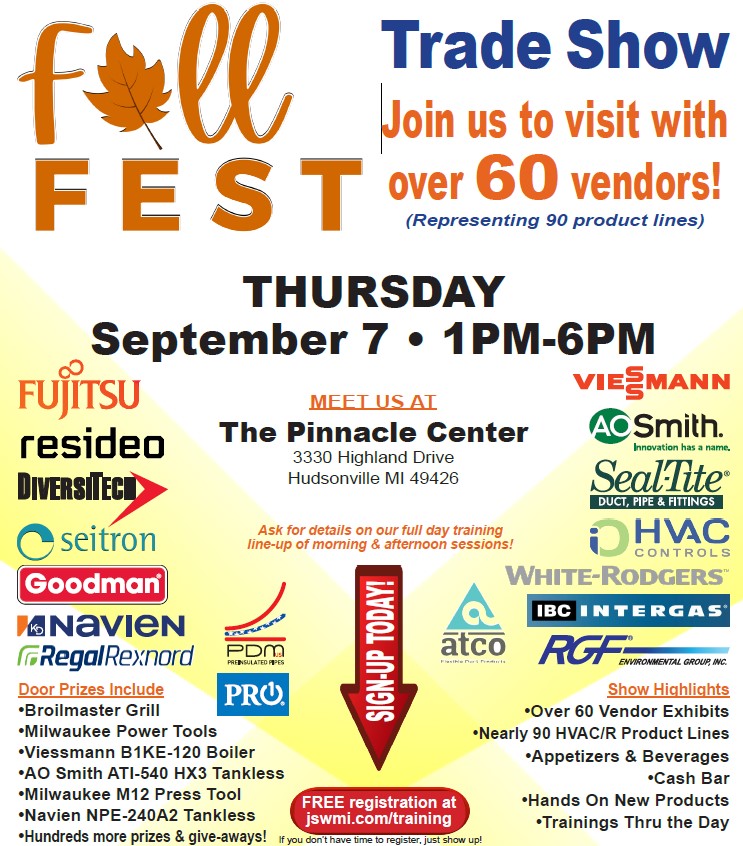 ---
Summer of Savings Event Today in Muskegon 8-15-2023
Come join us! The Airbourne Burrito truck will be on hand Tuesday Aug 15th providing delicious burritos for lunch from 11-2pm. We will also have several vendors including key sponsor Resideo participating in an outdoor trade show!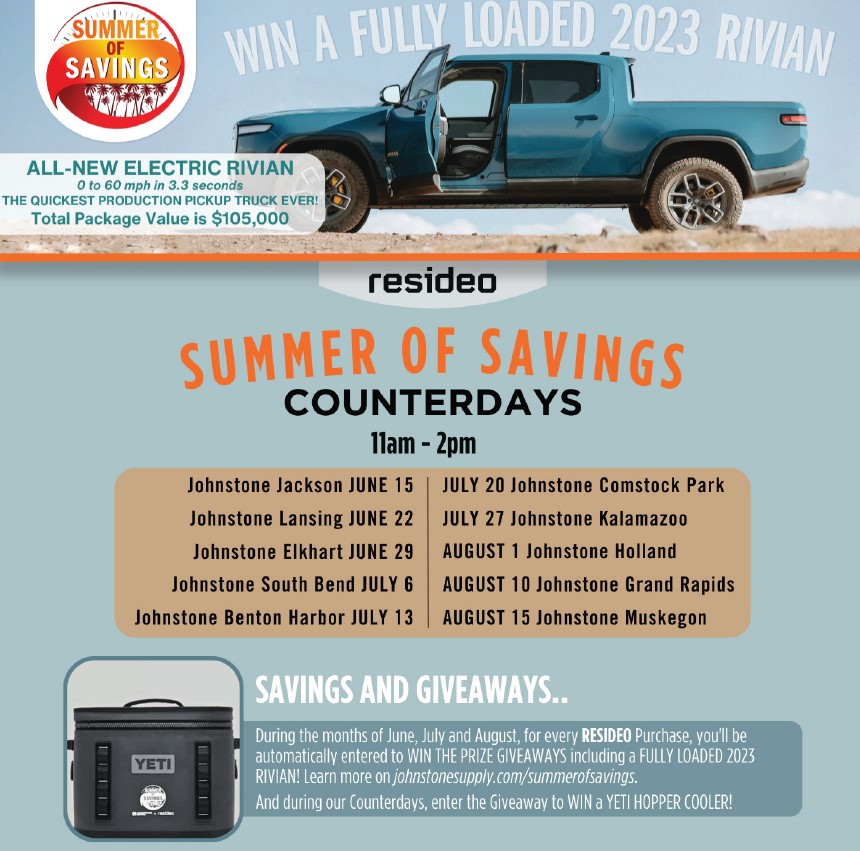 ---
JB Pump Days 2023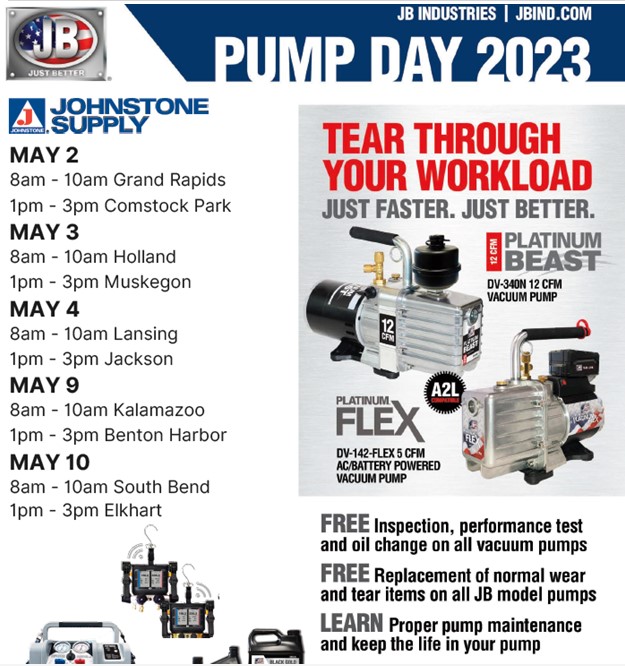 ---
Event!

Participate Two Ways!
#1 Enter your chili in the contest! Chance to win gift card, trophy, prizes! Receive $15 toward ingredients. Bring chili in by 10am warmed in a crock pot. Need not be present to win.
#2 Show up to eat & vote on chili! Join us from
11am-2pm to enjoy a variety of homemade chili!


Sign-up at the counter or call or email Karen (kpoland@jswmi.com)
---
Christmas 2022 Luncheon Schedule!
Thank you for your business and friendship. Please join us 11am-2pm to celebrate the season!
Fried Chicken, Potatoes & Gravy, Baked Beans, Coleslaw, Biscuits & Cake

---
Holiday Schedule 2022
Christmas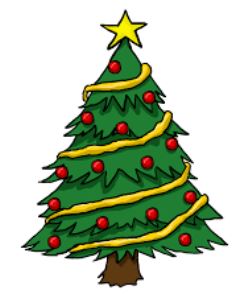 Dec 23 Closing at Noon
Dec 24 Closed Saturday Merry Christmas!
Dec 26, Monday Closed
New Years
Dec 30, Closing Early at 3pm
Dec 31, Closed New Years Eve
Jan 2, Monday Happy New Years!
Merry Christmas from Everyone at Johnstone Supply!
---
Welcome Lansing and Jackson MI Customers!
We are so excited to welcome Lansing and Jackson, MI customers to the Muskegon group! On Monday May 2, 2022 all 10 branches became live on one system. Now you can purchase from any of our locations on one account. Of course no matter how hard you prepare for a computer system merge there could be issues so thank you for your patience. Feel free to email any questions to itsupport@jswmi.com or call into your preferred branch.
---
Hydronic Event Tuesday Sept 14 Pinnacle Center! 2021

Register now for a full day of everything Hydronic, from basic piping and pumping to more advanced concepts. Air Elimination, Water Quality and its effects on performance and boiler longevity. Wiring and control strategies and much, much more. Taught through a panel of local and National experts.
Training
Date: Tuesday September 14, 2021
Time: Training Classes 8am – 4pm with huge hydronic trade show from 3-6pm
Location1: The Pinnacle Center 3330 Highland Dr • Hudsonville, MI • 49426
Includes: FULL day of Training by hydronics industry experts, class handouts & lunch.
Cost: $149 per person
Trade Show
Huge Hydronics show 3-6pm Over 40 top Hydronics vendors. Free
4pm Appetizers & Beverages
•Hands On New Products
•New Viessmann boiler unveiling 4-5pm
•Plus much more!
Door Prizes Include
•Milwaukee M12 Press Tool
•Navien Tankless Water Heater
•New Viessmann 100 Series Boiler
•Plus tons more!
RESERVE YOUR SPOT TODAY!
Register at: jswmi.com/training
For additional information call (616) 532-8188 x1203
---
Milwaukee 10% Off Day July 28th!
Mark your calendar for Tuesday July 28th for our special Milwaukee sale!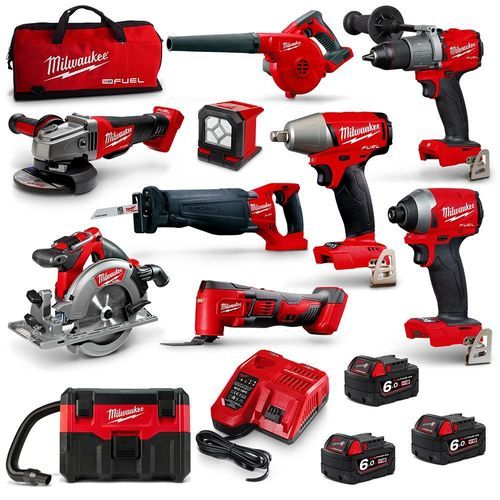 Take an additional 10% off all Milwaukee items for the day. Just place an order to qualify! We are stocked up and ready with many items already at
the best prices of the year.
Ask your Johnstone team member for our latest flyer on all the new Milwaukee items available!
All products all locations all day. Backorders for nonstock items will also be allowed.
---
Our 8 showrooms are open! For your safety we continue to observe recommended CDC guidelines (distancing, cleaning, sanitizing, masks). Curbside service continues to be available for those preferring to remain outside. Place your order any way you choose, and we'll have it waiting for you! Call, web order, mobile app, email, text and fax. Click here to sign up for our app or web order entry. We are happy to help you! Learn more on our eSolutions page. Also, visit our Covid -19 Resources Page for more information on valuable business resources.
---
Customer Appreciation Christmas Luncheon Schedule!
Come enjoy good fellowship & delicious food as we celebrate the season: Fried Chicken,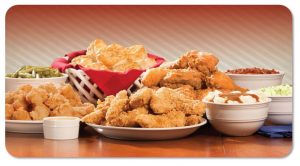 Potatoes & Gravy, Baked Beans, Cole Slaw, Buttermilk Biscuits, Cake, Pop & Coffee.
Join us for lunch from 11am-2pm.
Tuesday, December 17 Kalamazoo & Benton Harbor
Wednesday, December 18 South Bend & Elkhart
Thursday, December 19 Grand Rapids & Comstock Park
Friday, December 20 Muskegon & Holland
Thank you for your business & your friendship!  Merry Christmas & Happy New Year 2020!!
---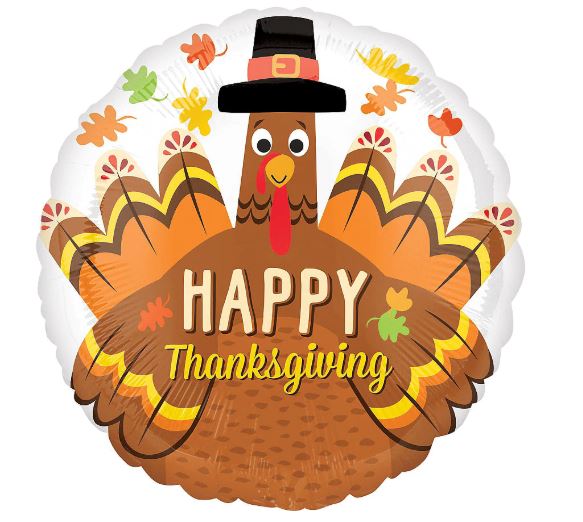 Johnstone Supply would like to thank you for your continued support throughout
the year, and wish you a very Happy Thanksgiving holiday!
We will be closed on Thursday November 28th but open on Friday the 29th
as well as Saturday the 30th from 8am-noon.
---
10% Off Milwaukee Days Are Here!

Looking for more Milwaukee Tools? Then come to one of our Milwaukee Day events and get an extra 10% off our already low prices on Milwaukee products.
The Milwaukee rep will be on site 8am-Noon for demos & questions!  Along with DOORPRIZES all day long!! 10% Off special available day of event only, during regular business hours!
Enjoy a continental breakfast in the morning starting at 8am until it's gone!
---
New! Truaire Grills & Registers


Finish
•all products are powder-coated before assembly.
•dampers and fins slide easily vs post painting that makes them stick in one position. No having to break the paint.
•rivets installed after assembly to ensure smooth operation.
•more durable to scratches and scuffs.
•fresh modern color looks great next to wood floors.

Quality Construction
•no weld spots on the face of the register.
•low noiseless dampers (no rattles)
•extremely durable and long lasting.

Availability
•Large local and national stock inventory.
•Commercial registers can ship in days, not months.

Wall Ceiling Arm/Handle  
•Easy to adjust compared to a slider.
•Does not stick out when register is fully open or closed.
---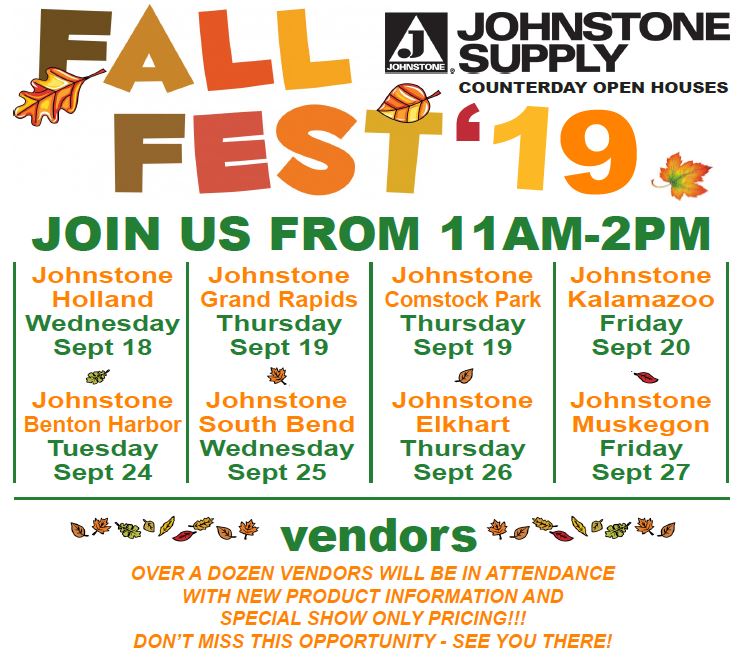 ---
Web Order Entry Upgrade
After many years we found ourselves overdue for a big upgrade to our legacy web portal. The good news is we are now ready to begin transitioning to the new feature rich version. In addition to real time price/availability, ordering and order history we have added much more. There are so many features they are hard to list but include the following:
Autofill Searching
360° Views
Detailed Specifications
AHRI System Selector
Improved Product Lists
Intuitive Drill To Products
Much More!
On the left you will find the new order online link right above our old old legacy link. Your login credentials will work with either link, but the layout of the new portal and ordering will look different/new. You may be requested to enter in your zipcode and choose the Johnstone Supply branch you do most of your interactions with. The new system will win you over fast.  Some of you may already have been moved over or have only ever used the new portal. If so, this change will not affect you.  Early next year our old legacy method will be shut down in favor of the new.  Give it a try and let us know what you think. If you have questions you can contact itsupport@jswmi.com or anyone at Johnstone Supply.
---
Summer Kickoff Events Completed
We recently completed our 8 location Summer Kickoff events. Thanks to all the customers who attended and vendors for their support. Tons of prizes were awarded along with massive amounts of burgers and brats enjoyed. Below are some pictures from the events. See you at our next event "Fall Fest" in September.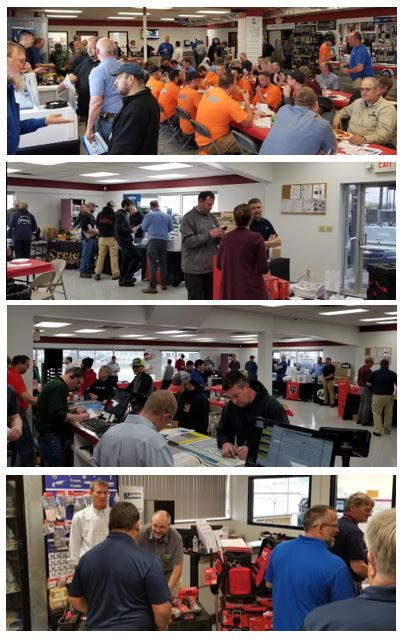 ---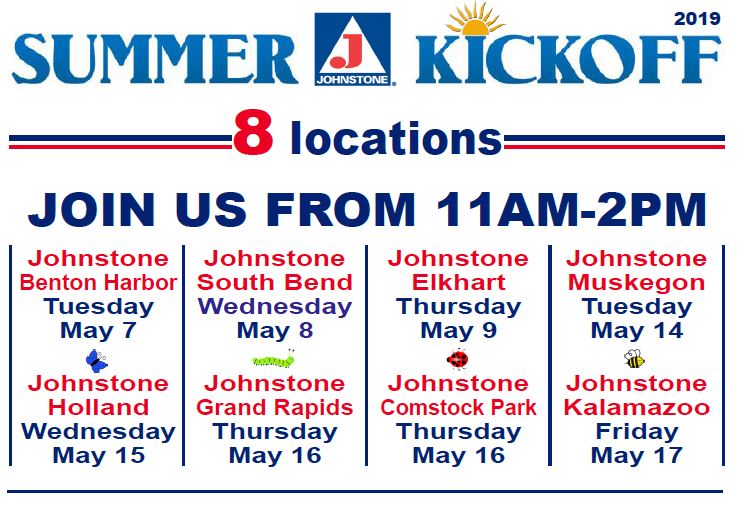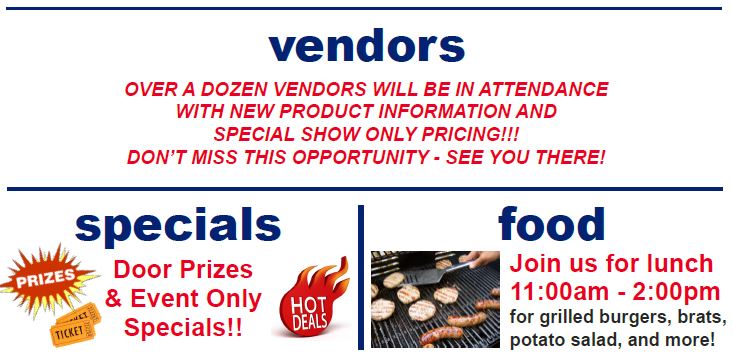 ---
Spring 2019 Preseason Program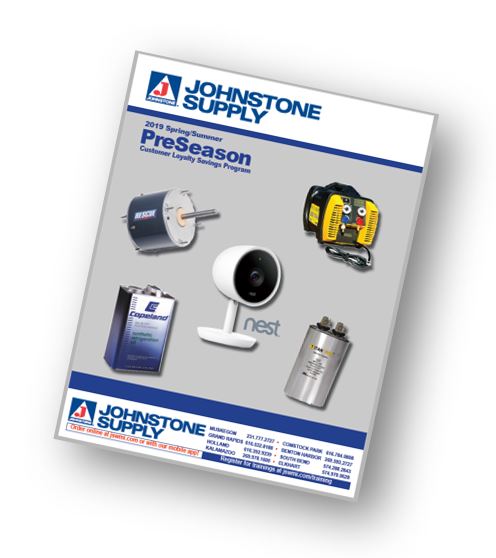 It's Springtime and that means you need service parts. Have all the items you need on your trucks so you don't have to make expensive callbacks.Take advantage of pre-season prices on items for sales and service and take a 2% discount or 90day terms* Over 650 fast selling items are featured in our new spring flyer.
Qualifying order minimum is just $1000 and locks in pricing in until June 30, 2018!*
The qualifying period is April 1 thru June 30, 2018!
*Prices are subject to change due to unforeseen manufacturer increases.
*For accounts that are current, with approved credit. (Must indicate preference at time of order.)
Contact anyone at Johnstone Supply for your free copy or request a pdf from kpoland@jswmi.com
---
Saturday Hours Change
Starting March 2 we are no longer open from 8-noon on Saturday mornings with the exception of South Bend who is open year around at that time. As always we plan to reopen on Saturdays next fall in October. If you need an emergency opening just dial the main phone number for the branch and follow the instructions. There is a $75 opening fee for this service.
---
2019 Chili Cook-off Winners Announced!

Thanks to everyone who participated in our 23rd annual chili cook-off. There were 8 winners across our 8 locations. Each winner received a trophy and gift package valued over $250. In addition to enjoying chili we had a trade show where hundreds of area contractors learned about new products and specials from our vendor sponsors. See you again next year!
List of 2019 Winners!

---
Fall 2018 Preseason Now Available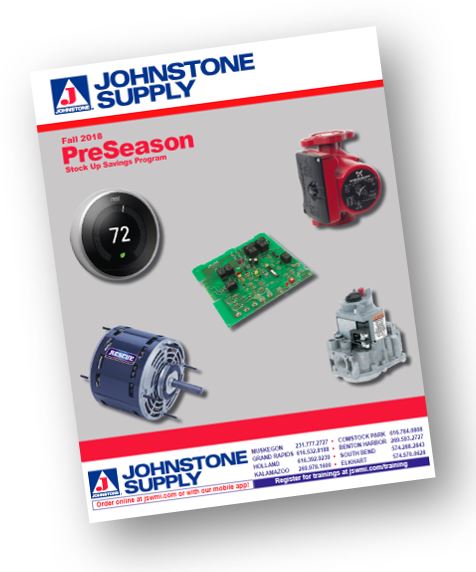 It's time to take advantage of big savings on hundreds of products you need to be ready for the fall heating season. The Fall 2018 Johnstone preseason is 28 pages loaded with appreciation gifts, special deals and offers.
Qualifying Order Period: Now until Nov 30, 2018.
Minimum Order: $1000 minimum locks you in to great prices until December 1, 2108.
Terms: Take a 2% discount if paid by the 10th* or net 90 days.
Having what you need when you need it saves you time and money. See your Johnstone Supply sales associate for details or to request a printed copy.
*for current accounts with approved credit.
---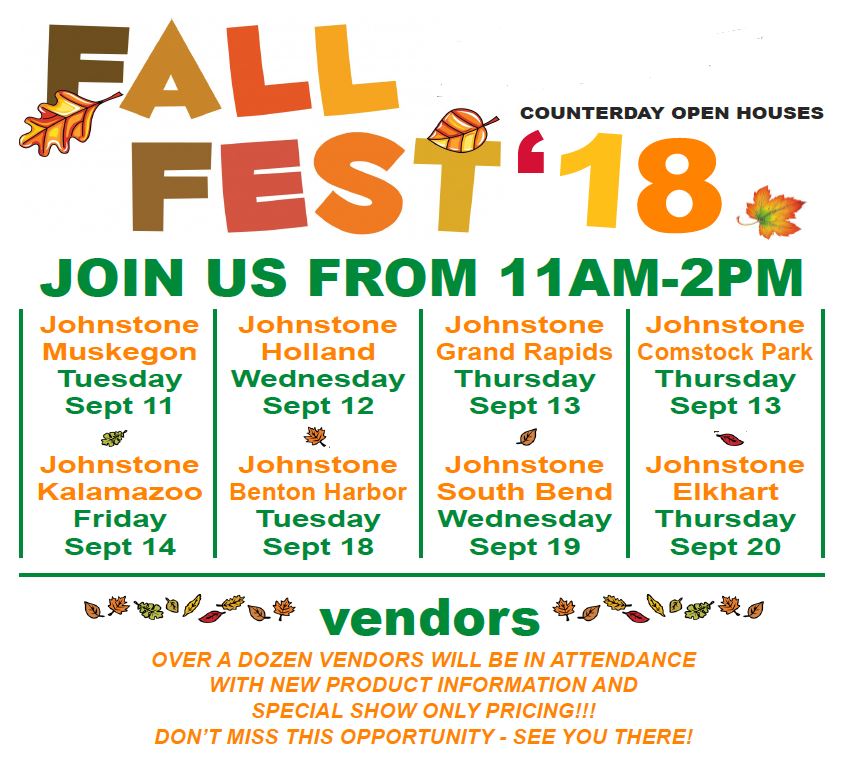 ---
Over The Edge!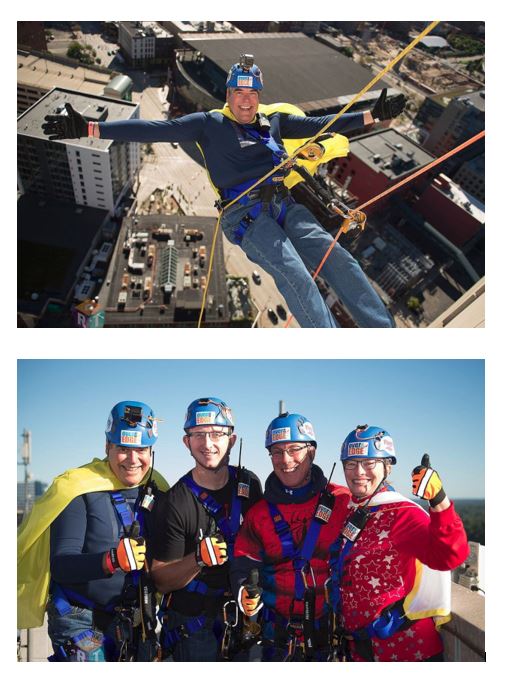 Captain Cal, Mary Marvel (our president Cal Garbrecht and his wife Mary), Jordan McDowell "Air Jordan" and employee winner Spiderman Dan (Dan Hunt) recently went "Over the Edge" for Easterseals. They rappelled 345 feet off the roof of Plaza Towers in Grand Rapids, to help raise money for Easterseals.
Jordan McDowell from Dynamic Mechanical Service of Mishawaka won the Johnstone drawing from our recent "Text Us" contest to win the opportunity to rappel.
Easterseals Michigan provides services to over 12,000 individuals in the community living with mental, physical, and behavioral health difficulties. The funds raised from Over the Edge will go directly towards the various programs and services. Easterseals strives to change the way the world defines and views disabilities by making profound, positive differences in people's lives every day.
---
Grand Prize Winner Summer Kickoff 18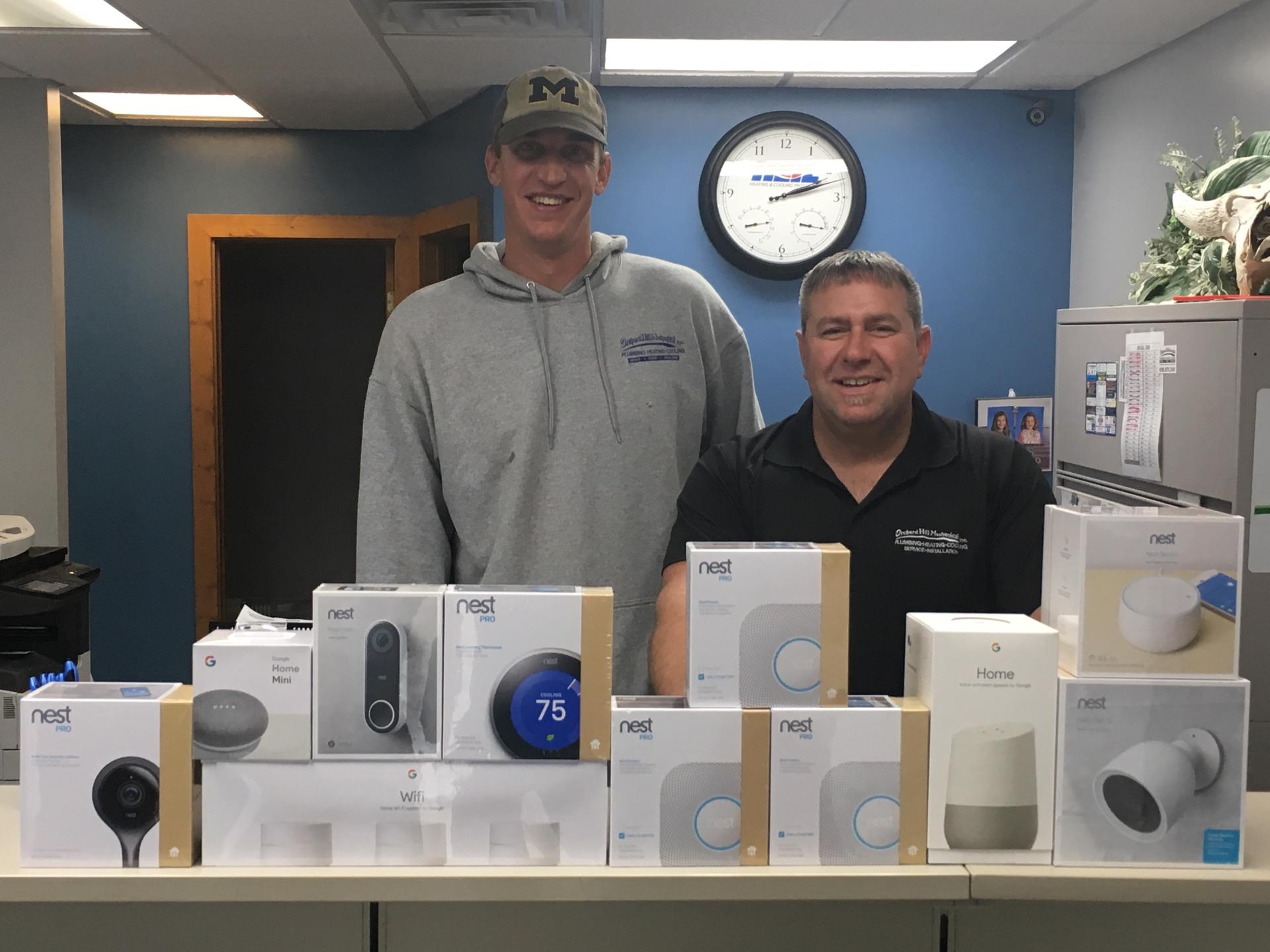 Congratulations to Dave Ignasiak from Orchard Hill Mechanical for winning our #SummerKickoff18 Grand Prize, a Nest Connected Home Makeover! The Package Includes: Nest IQ Outdoor Camera, Nest Indoor Camera, Nest Learning Thermostat, Nest Hello Doorbell, 3 Nest Protect Smoke Detectors, Nest Home Google Assistant, Nest Home Mini Google Assistant, Nest Secure Security System and 3pk of Google Wifi routers.

---
Hydronic Counterday Grand Rapids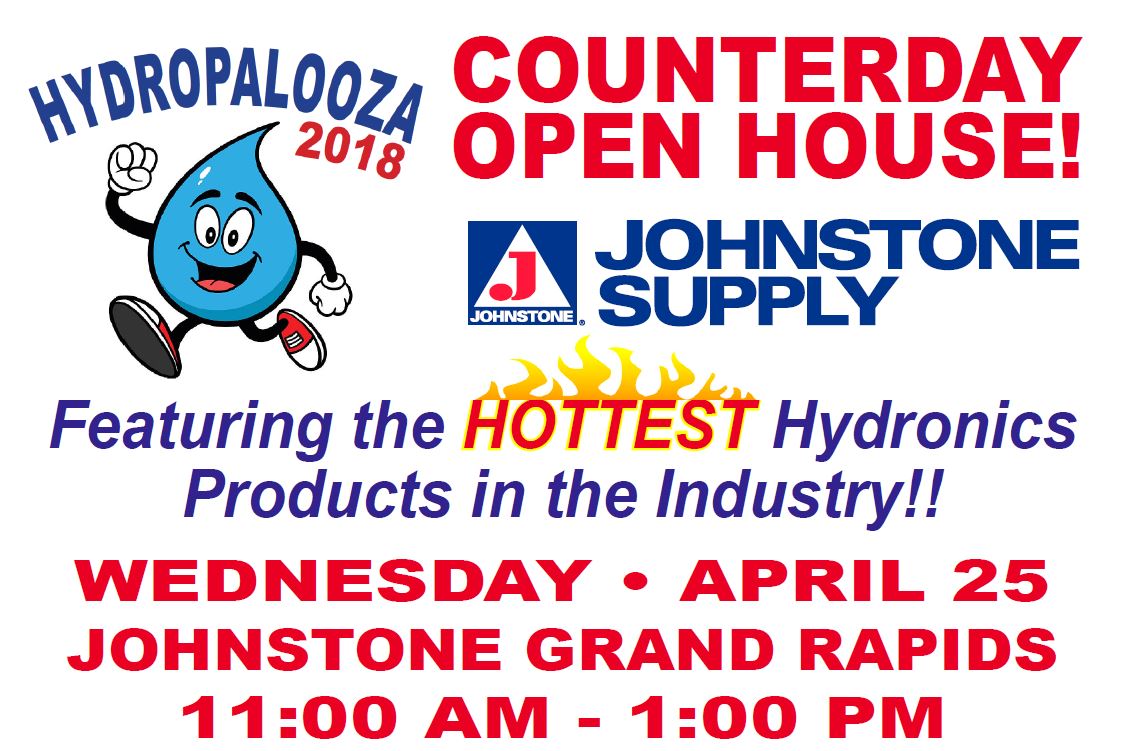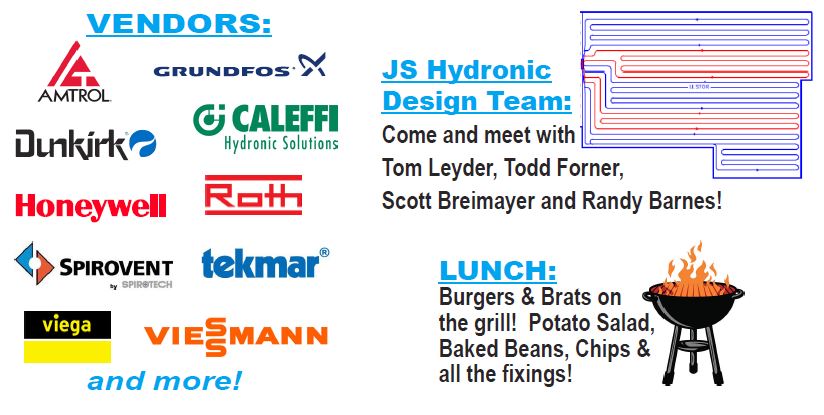 ---
New R4.0 GelBlack and TwinGel Line Sets
As you know, the new mechanical code requires R4.0 insulation on all split system line sets. In response to this change we have decided to stock the new GelBlack line sets. In addition to meeting the new R4.0 code requirement these line sets feature a new tear resistant GelBlack insulation that is UV resistant making it easier to install. They come packaged in bags which take up less space and less waste on the job site.  The ends are a flat crimp ensuring the line set is clean inside every time.  The GelBlack comes in 25′, 35', & 50' lengths.

We are also stocking the new (50' only)  TwinGel white minisplit R4.0 line sets. The TwinGel insulation is fused together making minisplit installation much easier.  It is also tear and UV resistant.

---
New Phone System
To better serve our customers we recently transitioned to a new phone system that interconnects all 8 branches. Just dial 2 for sales and you are connected with the branch you dialed! For faster service dial 3 and the first person in our other branches will help you.The new system is helping us improve customer service at many levels.  . Thank you!
---
ZoomLock Roadshow Events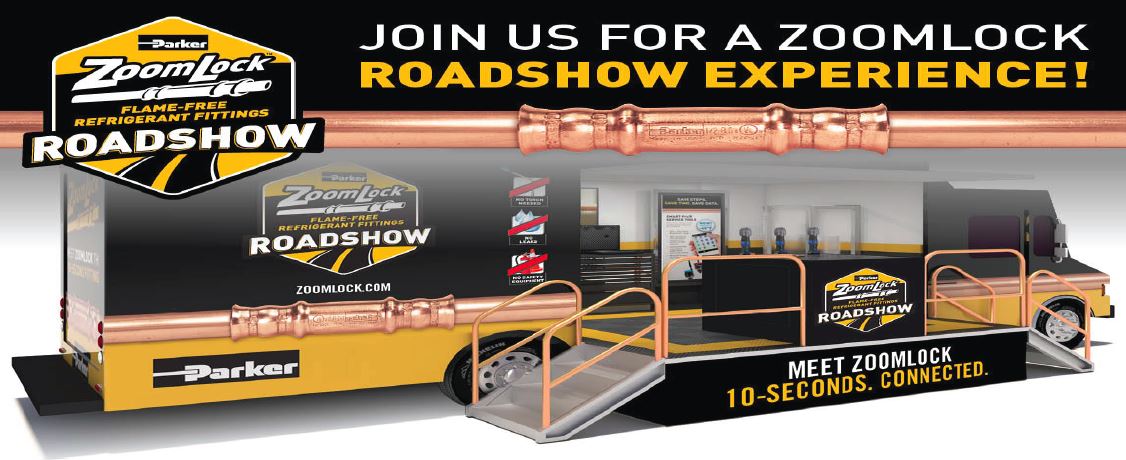 •Learn how ZoomLock flame-free refrigerant press fittings can help you finish jobs faster and win more business.
•Watch a live pressure test of a ZoomLock fitting you crimped.
•Enter for a chance to WIN a trip of your choice – the 2018 Ryder Cup in France or the 2019 Super Bowl!
Thursday, August 17, 2017   8-11am
Johnstone Supply South Bend
-Continental Breakfast provided!
Thursday August 24th, 2017 2:30-5pm          Friday August 25th 7am-10am                   Friday August 25th 11am-2pm
Johnstone Supply Kalamazoo                          Johnstone Supply Muskegon                     Johnstone Supply Holland
-Root Beer Floats Provided                              -Continental Breakfast Provided!               -Lunch on the Grill Provided!
---
Lunch-n-Learn Counterday Holland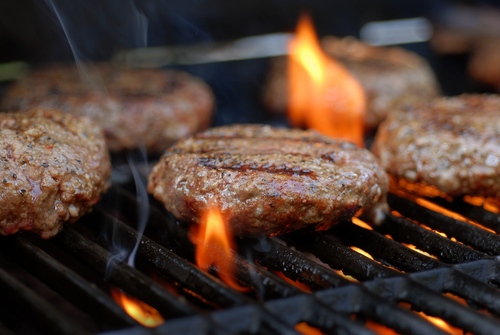 Friday, August 25 11am-2pm
Johnstone Supply Holland
 2127 112th Ave 49424
Visit with vendors and learn about:
•Honeywell Controls
-Zoomlock Truck from Parker
•TracPipe CSST
•Panasonic Fans
•Viessmann Boilers
•Utility Rebates with ICF and more!
                                                                                                     Burgers, brats & all the fixings!
---
HVAC Business Success Training
In this amazing 2 hour class renowned speaker Marc Marchillo will show you what successful contractors are doing to be very successful regarding IAQ and how they are significantly increasing sales and service tickets, as well as increased close rates and higher service revenues.
•  How to be a Unique and Convincing contractor on a sales call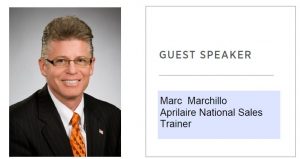 •  How to expand your IAQ product offerings
•  How to effectively close the sale with larger tickets in the home
•  How to increase customer satisfaction and retention
•  How to significantly grow your Air Cleaner and Dehumidifier business
•  Learn about the 6,000,000+ foreign made dehumidifier recall situation
•  How to make money every year by never "selling" an Air Cleaner again
•  The training, tools, terms, and proven strategies to make you successful
Tue  June 13, 2017   4-6pm    Muskegon Johnstone Supply
Wed June 14, 2017  8-10am   Grand Rapids Johnstone Supply
There is no charge to this valuable training!
RSVP to Stacie at staylor@jswmi.com or call 231-777-2727 x1203
---
Ferris State HVAC Student Wins Johnstone Award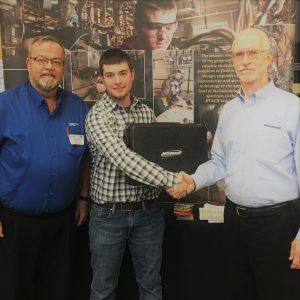 The annual Johnstone Supply award was recently given to Ferris State University HVAC student and soon to be graduate Matt Conzemius by Doug Milholin of Johnstone Supply and Jim Burke of Bacharach. Throughout his time at Ferris, Matt demonstrated an outstanding attitude and helping spirit with his instructors and classmates and was voted to receive this award by his instructors. Congratulations to Matt on his award of a Bacharach Insight combustion analyzer kit!
---
Welcome South Bend and Elkhart Branches!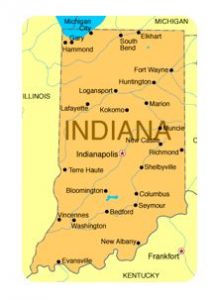 Effective January 1, 2017 the existing South Bend and Elkhart, IN Johnstone branches joined the Muskegon group. This brought the group total to 8 stores in Western Michigan and Northern Indiana. Former South Bend owner Andy Peck will continue to work with the stores in 2017 to ensure a smooth transition but will then change his focus onto other future endeavors. You can expect to see the same team members you have come to know as well as their high level of customer service. The entire Muskegon team welcomes South Bend and Elkhart employees to our team!
In addition to all that Johnstone Supply offers, the South Bend group brings to Muskegon added knowledge, product and expertise in refrigeration and commercial products. Muskegon in turn brings updated computer technology, rf bar-coding and several added product lines to South Bend. Customers can also expect to see enhanced deliveries and services once the transition is complete.
Let us know if you have any questions.
---
Grand Rapids Training Center

Have you attended a one of our technical training schools in the Grand Rapids branch yet? If not you should check out the quality training environment we created for our customers.  The training center is located on the second level above the showroom area.

The large room features deluxe training tables with seating for over 50 students and a full size kitchen. It is also equipped with multiple electrical voltages to connect the working HVAC units used in training. A built in LCD projector with a large screen facilitates the presentations.

Sign up for a class at Johnstone Supply today!
---
Refrigeration Training Cooler in Grand Rapids Showroom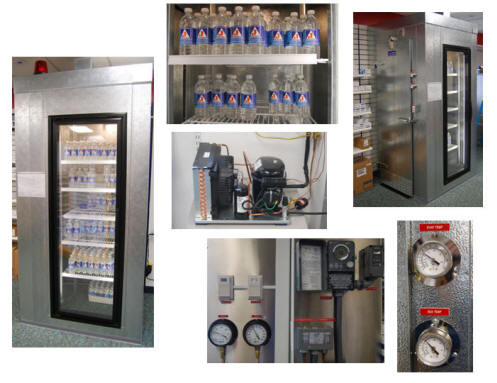 We installed a unique cooler in our Grand Rapids branch to show contractors a working model of a complete refrigeration system. Multiple pressure and temperature gauges, valves, sight glasses and controls were utilized to see exactly what is going on.
The condensing unit is Tecumseh's innovative Celseon, the coil is by Russell and the cooler box is made by American Cooler Technologies. The product is 500# of Johnstone Supply's famous free bottled water.
Stop in today, have a bottle of water and see what Johnstone Supply can do to help you with all your refrigeration needs.
---
Benton Harbor Branch

To better serve existing and new customers we opened our 6th branch in Benton Harbor. The new location is conveniently at 2106 M-139 right next to LeValley Chevrolet. Easy access off of I-94 at exit 28 Scottdale Road.
Stop in and say hi to branch manager Dave Brosco and the rest of the Benton Harbor team!
---
We are Just a Touch Away!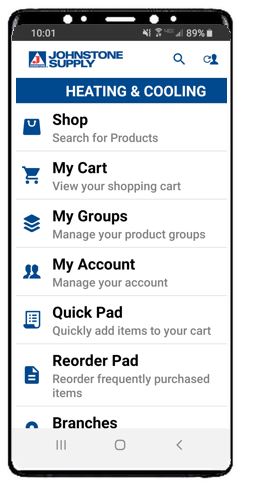 Real Time Order Entry!
Pricing & Availability!
Search for Products!
Scan Barcodes!
Product Pictures & Specs!
Product Groups!
Replenish your Inventory!
Open Orders, Bids, Invoices!
Payables Summary!

To sign up:  Just go to our signup page or contact itsupport@jswmi.com or (231) 777-2727 ext. 1300. You will then receive a return email inviting you to download the Johnstone "OE Touch" app from either the Apple App Store or the Google Play Store for Android. You will also receive a temporary password which you will be prompted to change at your first login. Give it a try!
---
Repair ECM Motors Inexpensively!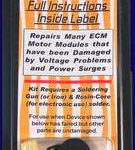 Don't toss ECM Motors! You can repair many GE (Regal-Beloit) ECM motor modules that have been damaged by voltage problems and power surges.
The repair Kit requires the use of a soldering gun (or iron) and rosin-core (for electronic use) solder. Johnstone number S59-422 is just $19.99ea!
Watch informative Video Here!
---