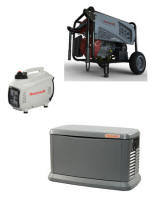 New! Honeywell Generators from Johnstone Supply!
Johnstone is your headquarters for standby and portable generators. The need for generators has never been better and people are buying them at record levels. We have teamed up with Honeywell to offer contractors a fantastic dealership opportunity.
Honeywell generators are available from 600w to 150KW. Common sizes and transfer switches are now in-stock. and Honeywell comes with 5 year warranty, included remote control, aluminum enclosure, base kit and more!
Get on board with Honeywell and Johnstone Supply today. For more information contact anyone at Johnstone Supply! Be sure to ask about the Honeywell advantages!