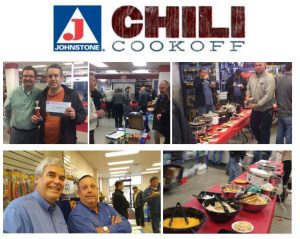 Over 130 Chilis!   •   8 Locations!   •   6 Days!   •  14 Vendors!   
The 2017 Chili-cookoff is now complete. Thank you to everyone who brought in their best chili. We had over 130 entries in total with 8 winners who each received $250 cash! 8 others won $100 on a random drawing among the contestants and a large 50″+ TV was also given away by Fernox boiler treatment. The ingredients varied from very spicy to sweet or both. There were also some great tasting white chicken chili's, pulled pork chili's and venison chili. A good time was had by all and many vendor specials were offered and sold. Thanks to everyone who attended and participated and special thanks to our vendor sponsors for making it happen. Start planning your chili for 2018 when we will do it all over again!
Special Thanks to Our Gold Sponsors

:  Honeywell,  Fujitsu, UEI and  AO Smith.  
Silver Sponsors: 

Seal-Tite  and  Payzer
Completed 2017 Cook-Off Locations: February 7th Kalamazoo, February 8th Muskegon, February 9th Grand Rapids, February 9th Comstock Park, February 10th Holland, February 10th Benton Harbor, March 1st South Bend, March 2nd Elkhart