HVAC Business Success Training
In this amazing 2 hour class renowned speaker Marc Marchillo will show you what successful contractors are doing to be very successful regarding IAQ and how they are significantly increasing sales and service tickets, as well as increased close rates and higher service revenues.
•  How to be a Unique and Convincing contractor on a sales call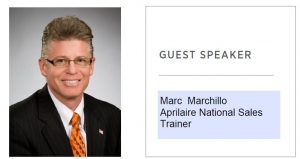 •  How to expand your IAQ product offerings
•  How to effectively close the sale with larger tickets in the home
•  How to increase customer satisfaction and retention
•  How to significantly grow your Air Cleaner and Dehumidifier business
•  Learn about the 6,000,000+ foreign made dehumidifier recall situation
•  How to make money every year by never "selling" an Air Cleaner again
•  The training, tools, terms, and proven strategies to make you successful
Tue  June 13, 2017   4-6pm    Muskegon Johnstone Supply
Wed June 14, 2017  8-10am   Grand Rapids Johnstone Supply
There is no charge to this valuable training!
RSVP to Stacie at staylor@jswmi.com or call 231-777-2727 x1203
---
Ferris State HVAC Student Wins Johnstone Award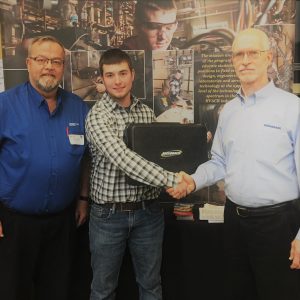 The annual Johnstone Supply award was recently given to Ferris State University HVAC student and soon to be graduate Matt Conzemius by Doug Milholin of Johnstone Supply and Jim Burke of Bacharach. Throughout his time at Ferris, Matt demonstrated an outstanding attitude and helping spirit with his instructors and classmates and was voted to receive this award by his instructors. Congratulations to Matt on his award of a Bacharach Insight combustion analyzer kit!
---
Welcome South Bend and Elkhart Branches!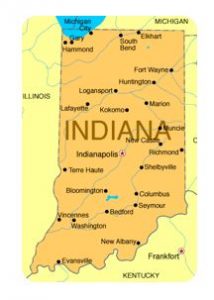 Effective January 1, 2017 the existing South Bend and Elkhart, IN Johnstone branches joined the Muskegon group. This brought the group total to 8 stores in Western Michigan and Northern Indiana. Former South Bend owner Andy Peck will continue to work with the stores in 2017 to ensure a smooth transition but will then change his focus onto other future endeavors. You can expect to see the same team members you have come to know as well as their high level of customer service. The entire Muskegon team welcomes South Bend and Elkhart employees to our team!
In addition to all that Johnstone Supply offers, the South Bend group brings to Muskegon added knowledge, product and expertise in refrigeration and commercial products. Muskegon in turn brings updated computer technology, rf bar-coding and several added product lines to South Bend. Customers can also expect to see enhanced deliveries and services once the transition is complete.
Let us know if you have any questions.
---
Open Saturday
To better serve you we are now open 8am-noon on Saturdays during the heating season!
Oct 1-Feb 25, 2017
---
21st Annual Chili Cook-Off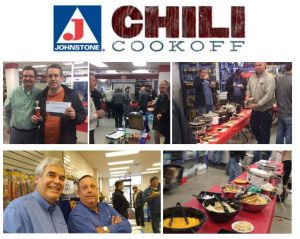 Over 130 Chilis!   •   8 Locations!   •   6 Days!   •  14 Vendors!   
The 2017 Chili-cookoff is now complete. Thank you to everyone who brought in their best chili. We had over 130 entries in total with 8 winners who each received $250 cash! 8 others won $100 on a random drawing among the contestants and a large 50″+ TV was also given away by Fernox boiler treatment. The ingredients varied from very spicy to sweet or both. There were also some great tasting white chicken chili's, pulled pork chili's and venison chili. A good time was had by all and many vendor specials were offered and sold. Thanks to everyone who attended and participated and special thanks to our vendor sponsors for making it happen. Start planning your chili for 2018 when we will do it all over again!
Special Thanks to Our Gold Sponsors

:  Honeywell,  Fujitsu, UEI and  AO Smith.  
Silver Sponsors: 

Seal-Tite  and  Payzer
Completed 2017 Cook-Off Locations: February 7th Kalamazoo, February 8th Muskegon, February 9th Grand Rapids, February 9th Comstock Park, February 10th Holland, February 10th Benton Harbor, March 1st South Bend, March 2nd Elkhart
---
Grand Rapids Training Center
Have you attended a one of our technical training schools in the Grand Rapids branch yet? If not you should check out the quality training environment we created for our customers.  The training center is located on the second level above the showroom area.

The large room features deluxe training tables with seating for over 50 students and a full size kitchen. It is also equipped with multiple electrical voltages to connect the working HVAC units used in training. A built in LCD projector with a large screen facilitates the presentations.

Sign up for a class at Johnstone Supply today!
---
Refrigeration Training Cooler in Grand Rapids Showroom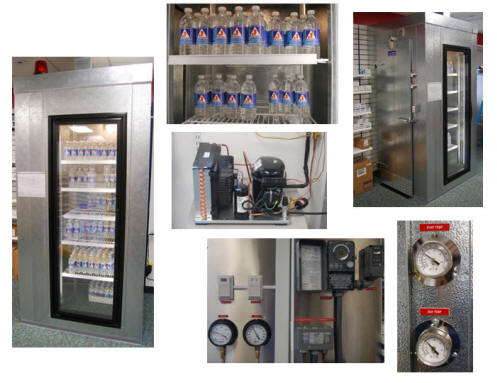 We installed a unique cooler in our Grand Rapids branch to show contractors a working model of a complete refrigeration system. Multiple pressure and temperature gauges, valves, sight glasses and controls were utilized to see exactly what is going on.
The condensing unit is Tecumseh's innovative Celseon, the coil is by Russell and the cooler box is made by American Cooler Technologies. The product is 500# of Johnstone Supply's famous free bottled water.
Stop in today, have a bottle of water and see what Johnstone Supply can do to help you with all your refrigeration needs.
---
Repair ECM Motors Inexpensively!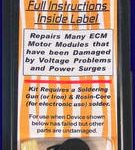 Don't toss ECM Motors! You can repair many GE (Regal-Beloit) ECM motor modules that have been damaged by voltage problems and power surges.
The repair Kit requires the use of a soldering gun (or iron) and rosin-core (for electronic use) solder. Johnstone number S59-422 is just $19.99ea!
Watch informative Video Here!
---