Welcome to Johnstone Supply
Our Vision: "To become our customer's preferred wholesaler by exceeding expectations through quality service, added value and caring employees."
---
Kids Food Basket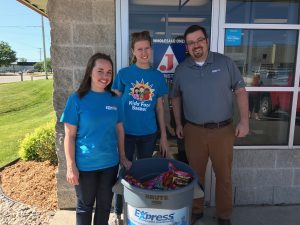 Thanks to everyone who has been donating to the food drive for Kids Food Basket! Pictured is Michael Engel from our Grand Rapids branch as well as representatives with Kids Food Basket. We collected 25lbs of food in the recent drive!
---
Ferris State HVAC Student Wins Johnstone Award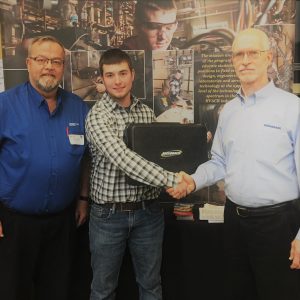 The annual Johnstone Supply award was recently given to Ferris State University HVAC student and soon to be graduate Matt Conzemius by Doug Milholin of Johnstone Supply and Jim Burke of Bacharach. Throughout his time at Ferris, Matt demonstrated an outstanding attitude and helping spirit with his instructors and classmates and was voted to receive this award by his instructors. Congratulations to Matt on his award of a Bacharach Insight combustion analyzer kit!
---
New Nest Products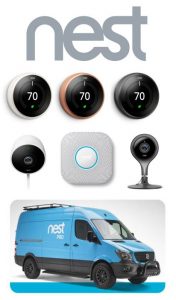 Nest recently added some new colors to the thermostat. Now you can get copper, black, white and stainless steel. A new outdoor camera is also available that works 24/7 rain or shine. It features a built in mic/speaker for 2 way communication to your connected device. The Nest Protect smoke alarm verbally calls out carbon monoxide or smoke alarms and exactly where they are occurring.  All part of a total home connected system that also works with thousands of other connected devices.
Become a Nest Pro Contractor and start selling more while building smart home systems for your customers. Customers of Nest Pro contractors enjoy a longer 5 year warranty. Nest Pro contractors also sell more jobs using widely recognized Nest products that are in demand. Contact anyone at Johnstone Supply for more information or to purchase Nest devices.
---
Welcome South Bend and Elkhart Branches!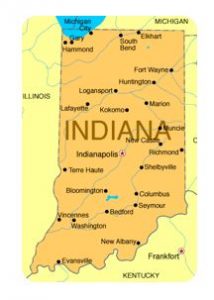 Effective January 1, 2017 the existing South Bend and Elkhart, IN Johnstone branches joined the Muskegon group. This brought the group total to 8 stores in Western Michigan and Northern Indiana. Former South Bend owner Andy Peck will continue to work with the stores in 2017 to ensure a smooth transition but will then change his focus onto other future endeavors. You can expect to see the same team members you have come to know as well as their high level of customer service. The entire Muskegon team welcomes South Bend and Elkhart employees to our team!
In addition to all that Johnstone Supply offers, the South Bend group brings to Muskegon added knowledge, product and expertise in refrigeration and commercial products. Muskegon in turn brings updated computer technology, rf bar-coding and several added product lines to South Bend. Customers can also expect to see enhanced deliveries and services once the transition is complete.
Let us know if you have any questions.
---
Fujitsu VRF AirStage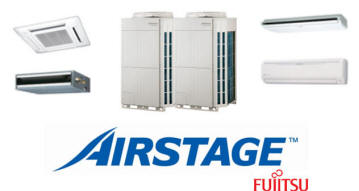 Our company was recently selected to be the Fujitsu VRF AirStage distributor. We are the only distributor with this designation in Michigan!
The extremely efficient Fujitsu VRF system allows from 6 to 24 tons with up to 45 heads on one system. Depending on the configuration you can cool in one part of the building while heating in another. In order to sell this advanced product you will need to attend our Fujitsu R.A.I.T training class.
Please inquire if interested!
---
21st Annual Chili Cook-Off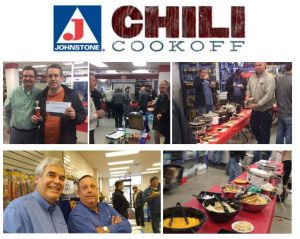 Over 130 Chilis!   •   8 Locations!   •   6 Days!   •  14 Vendors!   
The 2017 Chili-cookoff is now complete. Thank you to everyone who brought in their best chili. We had over 130 entries in total with 8 winners who each received $250 cash! 8 others won $100 on a random drawing among the contestants and a large 50″+ TV was also given away by Fernox boiler treatment. The ingredients varied from very spicy to sweet or both. There were also some great tasting white chicken chili's, pulled pork chili's and venison chili. A good time was had by all and many vendor specials were offered and sold. Thanks to everyone who attended and participated and special thanks to our vendor sponsors for making it happen. Start planning your chili for 2018 when we will do it all over again!
Special Thanks to Our Gold Sponsors

:  Honeywell,  Fujitsu, UEI and  AO Smith.  
Silver Sponsors: 

Seal-Tite  and  Payzer
Completed 2017 Cook-Off Locations: February 7th Kalamazoo, February 8th Muskegon, February 9th Grand Rapids, February 9th Comstock Park, February 10th Holland, February 10th Benton Harbor, March 1st South Bend, March 2nd Elkhart
---
New Ecovent Wireless Zoning

Check out the new wireless zoning system by Ecovent. No wires or tubes to run and intelligent room by room zoning. Works with the popular Emerson Sensi thermostat and your favorite mobile device!
See your Johnstone representative for more information!
---
Benton Harbor Branch

To better serve existing and new customers we opened our 6th branch in Benton Harbor. The new location is conveniently at 2106 M-139 right next to LeValley Chevrolet. Easy access off of I-94 at exit 28 Scottdale Road.
Stop in and say hi to branch manager Dave Brosco and the rest of the Benton Harbor team!
---
Did you get the Johnstone Mobile App Yet?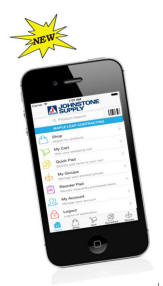 Real Time Order Entry!
Pricing & Availability!
Search for Products!
Scan Barcodes!
Product Pictures & Specs!
Product Groups!
Replenish your Inventory!
Open Orders, Bids, Invoices!
Payables Summary!

To sign up:  Just contact Neda Holt at nholt@jswmi.com or (231) 777-2727 ext. 1300. You will then receive a return email inviting you to download the Johnstone "OE Touch" app from either the Apple App Store or the Google Play Store for Android. You will also receive a temporary password which you will be prompted to change at your first login. Give it a try!
---
Now stocking Viega ProPress & MegaPress!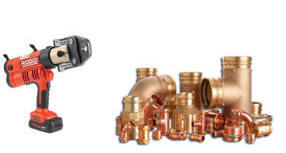 Johnstone Supply is now stocking Viega ProPress & MegaPress fittings and accessories! Save time, labor and make more profit. Join the thousands of contractors who join copper and blackpipe with the Viega system. Ask your Johnstone representative for more information.

Recent & Upcoming Price Changes
Viessmann price increase 4% effective September 1, 2017
Seal-Tite price increase 6-10% effective May 15, 2017
Viega MegaPress and ProPress Fittings price increase 3-6% effective May 15, 2017
Eaton price increase 0-5% effective May 1, 2017
Arzel Zoning price increase effective May 1, 2017
Aprilaire price increase 3% effective May 1, 2017
Nidec / US Motors price increase effective April 13, 2017
Honeywell price increase 2-10% (WiFi & Focus Pro increases) effective April 8, 2017
Fasco / Century / Regal Beloit price increase effective April 3, 2017
ICP Fast Parts price increase 0-3% effective April 3, 2017
Century Fasco Regal Beloit price increase effective April 3, 2017
Packard price increase 1% effective April 1, 2017
Z-Flex price increase 4% effective April 1, 2017
K-Flex price increase effective April 1, 2017
Miller Nordyne price increase 3-5% effective April 1, 2017
JBA Extended Warranties price increase 2-3% effective April 1, 2017
Grundfos price increase 2-5% effective April 1, 2017
MARS price increase 3.5% effective March 20, 2017
Johnson Controls price increase effective March 20, 2017
Amana PTACs price increase 3-6% effective March 13, 2017
Webstone price increase 3-7% effective March 1, 2017
Empire price increase 1-3% effective March 1, 2017
Caleffi price increase 5% effective March 1, 2017
Goodman Equipment price increase 3-6% effective March 1, 2017
Taco price increase effective March 1, 2017
Omegaflex/Tracpipe price increase 6% effective February 10, 2017
US Motors – Nidec price increase effective February 7, 2017
Navien price increase effective February 6, 2017
Diversitech price increase 4-5% effective February 3, 2017
Sensus price increase effective February 1, 2017
Scotsman price increase effective January 17, 2017
Robertshaw price increase 5% effective January 2, 2017
Copeland price increase effective January 2, 2017
Heil/ICP price increase 5% effective January 1, 2017
Aspen Coils price increase 3-5% effective January 1, 2017
AO Smith Parts price increase 1-2% effective January 1, 2017
Bacharach price increase 1-12% effective January 1, 2017
Grundfos price increase effective January 1, 2017
Pro1 IAQ price increase 1-8% effective January 1, 2017
Sealed Unit Parts SUPCO price increase effective January 1, 2017
Testo price increase effective January 1, 2017
UPG price increase 4-6% effective January 1, 2017
Renewaire price increase effective January 1, 2017
Blackpipe & PVC Sunbelt price increase 4-10% effective January 1, 2017
Galv Sheet Stock price increase 4% effective December 26, 2016
NDL Copper Fittings price increase 4% effective December 12, 2016
Xylem/ITT MCDonnell Miller price increase 2-5% effective December 12, 2016
Purolater Filters price increase 2-3% effective December 2, 2016
MA-Line price increase various effective December 1, 2016
Source 1 HVAC Parts price increase 6% effective December 1, 2016
White-Rodgers price increase 1-8% effective December 1, 2016
Blackpipe & PVC Sunbelt price increase 2-5% effective November 1, 2016
Hart & Cooley B-Vent, Reg price increase 5-6% effective October 1, 2016